Rise of Industry wird weltweit veröffentlicht
Freue dich, Unternehmer! Deine Vision, der weltgrößte Geschäftstycoon zu werden, beginnt heute! Kasedo Games und Dapper Penguin Studios kündigen stolz an, dass das extrem süchtig machende Tycoonspiel
Rise of Industry
vollständig und weltweit für Windows PC, Mac and Linuxzum Preis von
€29.99
undveröffentlicht wird.
Rise of Industry
ist inspiriert von klassischen, "Oldschool"-Tycoonspielen mit einer modernen Seite und fordert dich heraus, dein kleines Unternehmen von Grund auf zu entwickeln und in einem ständig wechselnden Geschäftsklima nach Perfektion zu streben. Erstelle weitreichende Produktionslinien, komplexe Transportrouten und erfülle die Anfragen von Kleinstädten und Dörfern, um deine Profite zu erhöhen und deinen Ruf zu verbessern. Aber Vorsicht: begrenzte Ressourcen, extrem ehrgeizige KI und industrielle Luftverschmutzung können deinem Geschäft schaden wenn du nicht richtig planst.
Je größer sie sind, desto tiefer fallen sie.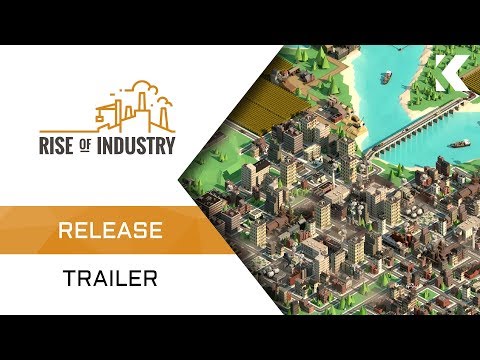 Rise of Industry ist jetzt für Windows PC, Mac & Linux verfügbar.
Über Rise of Industry
Rise of Industry wurde mit einem Augenmerk auf sowohl Zugänglichkeit als auch Tiefe gestaltet. Es hat genug strategische Komplexität und Wiederspielbarkeit, um den erfahrensten Fans des Genres zu gefallen, während seine einfach zu verstehende Mechanik sicherstellt, dass es auch neue Spieler lieben werden.
Spielinformation
Titel: Rise of Industry
Plattform(en): Windows PC, Mac & Linux
Preis: $29.99, €29.99, £22.99
Publisher: Kasedo Games (@KasedoGames)
Entwickler: Dapper Penguin Studios
Genre: Tycoon
Veröffentlichung: 2. Mai 2019
Hashtag: #RiseofIndustry