El Prez is Back on the Big Screen!

Tropico 6 launches today worldwide on PlayStation®4 and Xbox One
Strategy specialists Kalypso Media and Limbic Entertainment have today announced the digital and physical release of
Tropico 6
for PlayStation®4 and Xbox One (North American retail release to follow on 8
th
October).
Digitally,
Tropico 6
is available on PlayStation®4 in both
standard
and
'El Prez'
editions, with the latter including an extra decoration for your palace and male/female tourist outfits for El Presidente. On Xbox One, the game is available as a
standard edition
, with those that purchased the game during the Game Preview period also gaining the extra palace decoration and tourist outfits.
At retail, both the
PlayStation®4
and
Xbox One
versions come with 4 Tropican postcards, a digital soundtrack and digital calendar.
After a successful launch on PC, Mac and Linux earlier in the year, Kalypso Media and Limbic entertainment have spent a great deal of time listening to the community, implementing changes, and rolling out a host of new features which will ensure
Tropico 6
to be an even richer experience across all platforms.
On console, the game has been fully optimised for both the Dualshock 4 and Xbox One controller, and includes the ability to play cooperatively or compete, Prez v Prez, against up to three other players via PlayStation Network or Xbox Live.
One of the most beloved city-building sims in gaming,
Tropico 6
continues the series' penchant for dark humour, in-depth mechanics, and fizzing Caribbean soundscapes whilst introducing a host of new features such as a fully customisable Presidential pad and the ability to make life tougher than it needs to be for a whole archipelago!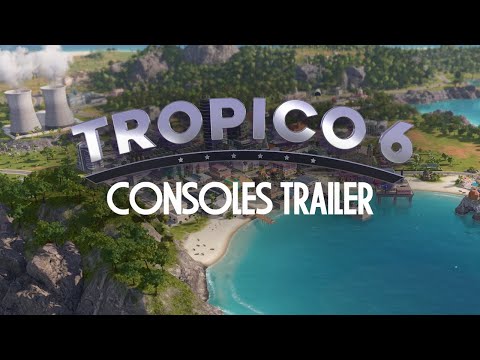 In March 2019,
Tropico 6
was released for PC, earning over 6,000 (85%) positive reviews on Steam and over 250 positive press reviews. On 27
th
September,
Tropico 6
will be officially released for the PlayStation®4 and Xbox One, and will finally make its appearance on the big screen.
Kalypso Media specializes in the development of strategy games for both PC and home consoles. Thanks to Unreal Engine 4 and the hard work of developer Limbic Entertainment,
Tropico 6
shines on consoles. The game runs in 30 FPS on first generation PlayStation®4 and Xbox One units. Over on the Xbox One X and PlayStation®Pro,
Tropico 6
is able to kick things up a notch and runs at 60 FPS in full HD or 30 FPS in 4K. Controls are optimized for both the Dualshock 4 and Xbox One controllers, allowing for the same fluid Tropico experience players have come to expect.
On consoles, all previous improvements and optimizations from the PC version are carried over – made possible by close co-operation with the community, as well as a lot of finetuning in development.
Tropico 6
on consoles also comes with an array of new content and fixes, including:
Four new traits for El Presidente
New edicts (e.g. Free Housing)
New overlays
Special effects of buildings are visualized
Revised balancing (e.g. tourism, media building)
Revised pathfinding for Tropicans
New variations for parks and squares
New decoration: Space Monument
New customization options for El Presidente
Colour blind mode
More than 300+ bugfixes
Information
Title:
Tropico 6
Platform(s):
PlayStation®4, Xbox One, Windows PC, Linux, Mac
Developer:
Limbic Entertainment
Genre:
City builder
Release:
Out now
Hashtag(s):
#Tropico6